ACTION TO SAVE THIS HOUSE AND HOW YOU CAN GET INVOLVED

Uphold our Heritage is an unincorporated association that filed suit to stop demolition of the Jackling House.

www.friendsofthejacklinghouse.org is online to be your source of history, photos, preservationist opinion, and updates on press coverage of this case and on our efforts to save the House.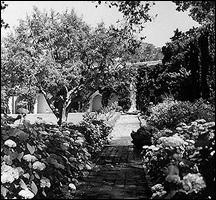 The law firm Chatten-Brown & Associates has been retained to represent Uphold our Heritage. [See http://www.cbaearthlaw.com]

Chatten-Brown & Associates, based in Santa Monica, California, are champions of the California Environmental Quality Act. They have been successful in court against mammoth deep-pocket entities such as Wal-Mart, Carnival Cruise Lines, and the Port of Los Angeles.

Saving the House will require their careful legal attention, and public vigilance and support.

The National Trust and the State Historical Resources Commission have already provided persuasive evidence to deny demolition, and will do so again as our hearing date approaches. [See LETTERS OF SUPPORT]

Join them and others in supporting our efforts!

ACTION TO SAVE THIS HOUSE AND HOW YOU CAN GET INVOLVED
HELP WITH A DONATION TOWARDS OUR LEGAL COSTS
ABOUT THE ARCHITECT AND THIS HOUSE
PRESS ON THE JACKLING HOUSE
PHOTO GALLERY: THE HOUSE THEN & NOW
MORE ON THE JACKLING HOUSE
ACROSS THE COUNTRY PEOPLE THINK IT MATTERS TO SAVE THIS HOUSE
FROM THE PUBLIC RECORD: LETTERS OF SUPPORT
BACK TO HOMEPAGE
Help us thanks to the National Trust